Fresh Authentic
WATERFRONT DINING
Dining at Wildwood's Lakeside Restaurant is an experience you'll savor. Wildwood is one of those enchanting places on Cordell Hull Lake where you can travel a country road or pull in with your boat and enjoy a casual, waterfront, dining experience. The Lakeside features inside and heated outside dining with panoramic views. Come and enjoy our restaurant with a full bar, unforgettable shoreline bonfires, and unforgettable live music on the weekends.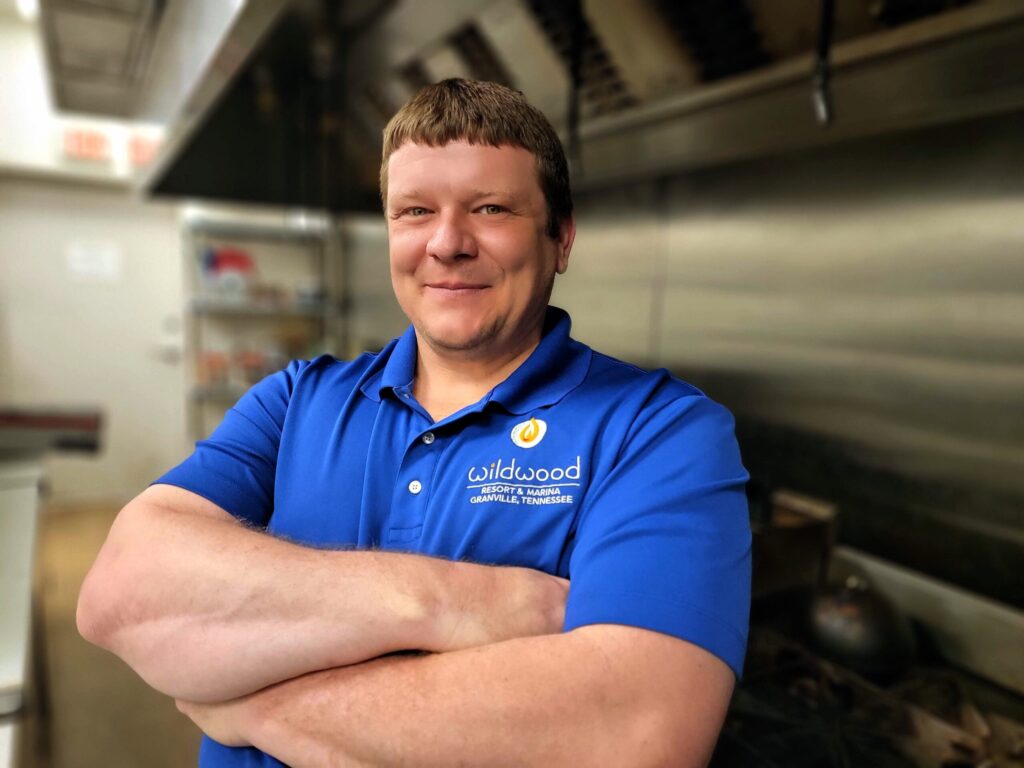 Wildwood's Chris Maxwell is a native of the Upper Cumberland. Long before the Lakeside at Wildwood, his culinary journey began at an early age in his Grandfather's garden. "My Grandpa, along with my Dad, had me playing in the dirt with my hands and growing things when I was a boy," Chris recalls how his love for cooking began. "I still put out a garden every year, and I love to grow vegetables, especially tomatoes, cucumbers, and all sorts of peppers." Shortly into his kitchen career, he was partnered with Chef Stephanie Falk. His humble beginnings as her dishwasher soon grew to kitchen manager and eventually Sous Chef. Together they started several highly acclaimed restaurants in Tennessee and Georgia, including the Blue Water Grill at Hurricane Marina.
Today, Chef Chris finds inspiration while overseeing the kitchen garden at Wildwood and tending to his own veggies at home.
Holiday Parties
ON THE LAKE
Reserve your unforgettable holiday party on the lake. Wildwood is the ideal location for company Christmas parties, annual friend get-togethers, and family holiday dinners.
Learn MORE
LET'S GET HAPPY
Join us lakeside Wednesdays & Thursdays for Happy Hour!
$4 Draft Beer | $5 Specialty Cocktails & House Wine
1/2 Off sharables:
Chestnut Mound Chips & Dip Trio and Chef's famous Enigma Road Hushpuppies served with creamy honey butter.
Each month enter for a chance to win a $50 Wildwood Gift Card with your Happy Hour
purchase. One entry per person per day!
THE CUISINE
Wildwood's culinary team have a passion for high-quality, authentic, and fresh ingredients. Come experience our delicious, contemporary southern fare. Each season we expand our restaurant's "farm to fork" inspired menu and Chef Chris has a new special to sample each week too.